To provide the community with an easily referenceable source of the field's products and services, we publish an annual Resource Guide, containing directory listings of products and services of all types. This valuable guide for the field is printed annually, as well as available online 24/7. To place a listing in the Resource Guide, visit directory.behavioral.net. The Resource Guide also offers sponsorship and display ad opportunities, as well.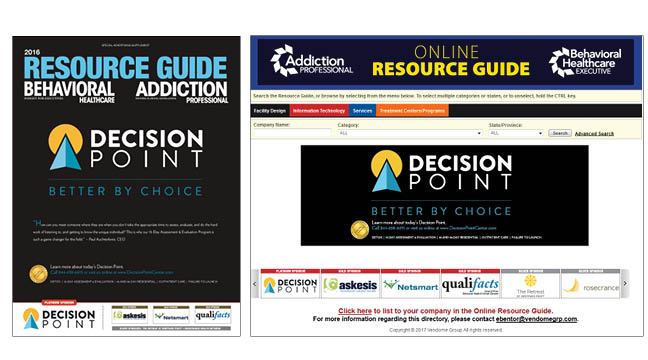 Other specialized directories, published in the magazines only, are available throughout the year:
Information Technology (Behavioral Healthcare Executive)
Facility Design (Behavioral Healthcare Executive)
Treatment Centers (Addiction Professional)
For more information on directory listings, contact Katrina Hall at khall@iabhc.com or 216-373-1238.