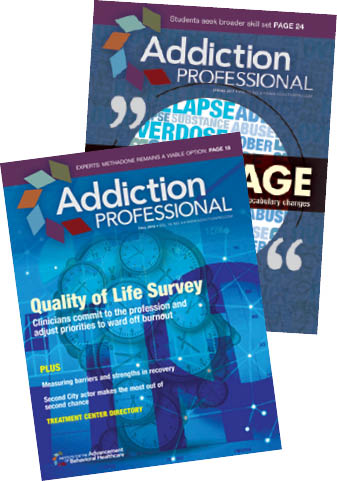 Reporting on the whole spectrum of addictions and addiction treatment services, Addiction Professional provides guidance on care delivery and emerging trends affecting addiction services in the public and private sectors. Addiction Professional delivers authoritative and timely content through multiple channels to engage and shape the field.
Click here to view the Addiction Professional digital edition.
Audience | Editorial Calendar | Advertising
Audience
Addiction Professional is a clinical magazine engaging nearly 60,000 professionals, concentrating on the care and recovery of people with substance use disorders, process addictions, and co-occurring issues.
Addiction Professional Print Audience by Title

According to our Spring 2017 advertising and research study (conducted by Baxter Research) after seeing an ad in Addiction Professional, 99% of our readers reported one or more of the following:
90% liked one or more ads
86% became newly aware of a product/service
64% associated ads with respective brands
68% had an improved opinion on an advertiser
Editorial Calendar
Click here to view the editorial calendar and coverage areas of Addiction Professional.
Advertising
Addiction Professional offers display advertising in the following sizes:
Two-page spread
Full page (bleed and nonbleed)
2/3 page
1/2 page (horizontal, vertical, island)
1/3 page (square or vertical)
1/4 page
Click here to access the rate card.    Click here to view print specs.
Specialty advertising options are available, as well:
French/barn door
Belly band
Polybags
Business reply cards
Cover tips
Click here to view samples of these opportunities.
In addition, Addiction Professional's digital edition offers unique advertising choices to stand out in a crowded market. Take advantage of multimedia opportunities such as:
Presentation page
Embedded video
Margin advertising
Belly bands
Slide shows
Business reply cards